Aiginition Longitudinal Biomarker Investigation Of Neurodegeneration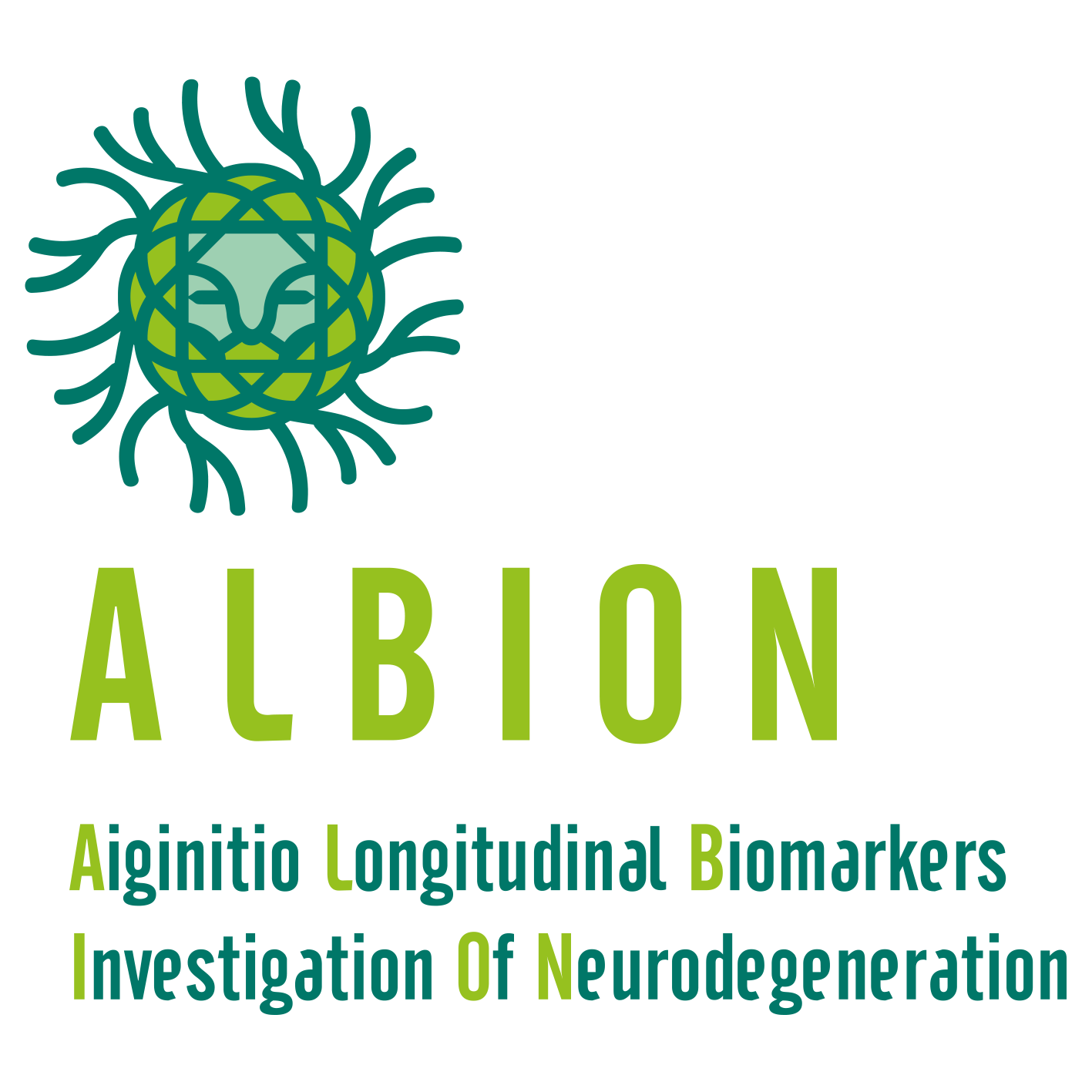 The objective of the study is to address research questions concerning the preclinical and prodromal stage of Alzheimer's disease, more specifically to address pathways of disease development, providing evidence to the biological mechanisms that may explain observed relationships.
Overview
Acronym

ALBION

Investigators

Contacts
General Design
Study design

Cohort

Start - End Year

2018 -

General Information on Follow Up (profile, frequency)

All participants are evaluated annually after their baseline assessment. Participants are followed up longitudinally for a period of at least 10 years.

Recruitment Target

Number of Participants

112

Number of Participants with Biological Samples

112
Access
Availability of data and biosamples
| | |
| --- | --- |
| Possible Access to Data | |
| Possible Access to Biosamples | |
| Other | |
Marker Paper
Kalligerou F, Ntanasi E, Voskou P, et al. Aiginition Longitudinal Biomarker Investigation Of Neurodegeneration (ALBION): study design, cohort description, and preliminary data. Postgrad Med. 2019 Sep;131(7):501-508.
PUBMED 31483196
Population
ALBION population
The population is composed of individuals aged 40 years or older who are even minimally concerned about their current cognitive status or are solely concerned about their future cognitive performance. They can be either cognitively normal (CN) or have at most mild cognitive deficits (MCI) but clearly, do not meet the criteria for dementia diagnosis.
Selection Criteria
Minimum age

40

Countries

Territory

Athens

Health Status

All dementia patients were excluded from this study. Additional exclusion criteria contain: neurological, psychiatric or medical conditions associated with a high risk of cognitive impairment or dementia including but not limited to Huntington's disease, multiple sclerosis, Parkinson's disease, Down syndrome, active alcohol/ drug abuse or major psychiatric conditions including, not limited to, major depressive disorder, schizophrenia and bipolar disorder.
Sample Size
Number of Participants

112

Number of Participants with Biological Samples

112
Data Collection Events
#
Name
Data sources
Data sources - Biosamples
Start
End
0
ALBION - Baseline

Questionnaires
Cognitive measures
Physical measures
Biosamples

Blood
Other : Stool, cerebrospinal fluid

2018
2018
1
ALBION - Visit 2

Questionnaires
Cognitive measures
Physical measures

2019
2019
2
ALBION - Visit 3

Questionnaires
Cognitive measures
Physical measures
Biosamples

Blood
Other : Stool, Cerebrospinal fluid

2020
2020
3
ALBION - Visit 4

Questionnaires
Cognitive measures
Physical measures

2021
2021
Participating Studies
| Acronym | Name | Study design | Countries |
| --- | --- | --- | --- |
Harmonization Initiatives Included
Datasets
| Name | Data Collection Events | Variables |
| --- | --- | --- |
Areas of Information Collected
Socio-demographic and economic characteristics

Death

Lifestyle and behaviours

Physical measures and assessments

Birth, pregnancy and reproductive health history

Laboratory measures

Perception of health, quality of life, development and functional limitations

Cognition, personality and psychological measures and assessments

Diseases

Life events, life plans, beliefs and values

Symptoms and signs

Preschool, school and work life

Medication and supplements

Social environment and relationships

Non-pharmacological interventions

Physical environment

Health and community care services utilization

Administrative information
Variables Content Summary
Areas of Information Collected
No Areas of Information Collected
Areas of Information Collected per per Population and Data Collection Event
No Areas of Information Collected
Networks
| Acronym | Name | Harmonization Initiatives | Individual Studies |
| --- | --- | --- | --- |
Last Update:

2023-08-10T18:18:54.250