Cooperative Health Research in the Augsburg Region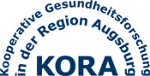 KORA stands for Cooperative Health Research in the Augsburg Region ("Kooperative Gesundheitsforschung in der Region Augsburg"). The focus of KORA is to survey the development and course of chronic diseases, and in particular of myocardial infarction and diabetes mellitus. Risk factors are being analyzed with regard to individual health behavior (as e.g. smoking, diet, or exercise), to the environment (e.g. air pollution, environmental noise) and to genetics. For the purpose of health services research, issues as to utilization and costs of health care are looked into. The KORA research shall provide new approaches in the field of chronic disease prevention and enhance public health care.
Overview
Acronym

KORA

Website

Investigators

Contacts
General Design
Study design

Cohort

Start - End Year

1984 -

General Information on Follow Up (profile, frequency)

Four cross-sectional baseline surveys have been performed at five year intervals (S1 in 1984-1985, S2 in 1989-1990, S3 in 1994-1995 and S4 in 1999-2001), each comprising an independent random sample. KORA follow-up studies are conducted at regular intervals in order to assess the health status of the population in Augsburg and the surrounding area and serve as a pool for nested case-control and case-cohort studies. This pool consists of approximately 18,000 participants with a follow-up duration of up to 36 years.

Recruitment Target

Number of Participants

18,000

Number of Participants with Biological Samples

18,000

Supplementary Information

The KORA study was initiated and financed by the Helmholtz Zentrum München – German Research Center for Environmental Health, which is funded by the German Federal Ministry of Education and Research (BMBF) and by the State of Bavaria.
Access
Availability of data and biosamples
| | |
| --- | --- |
| Possible Access to Data | |
| Possible Access to Biosamples | |
| Other | |
Marker Papers
Holle R, Happich M, Löwel H, Wichmann HE; MONICA/KORA Study Group. KORA--a research platform for population based health research. Gesundheitswesen. 2005 Aug;67 Suppl 1:S19-25. Review.
PUBMED 16032513
Supplementary Information
Funding Agencies: BMBF - Federal Ministry of Education and Research and Helmholtz Zentrum München
Participating Studies
| Acronym | Name | Study design | Countries |
| --- | --- | --- | --- |
Harmonization Initiatives Included
Networks
| Acronym | Name | Harmonization Initiatives | Individual Studies |
| --- | --- | --- | --- |
Datasets
| Name | Type | Data Collection Events | Variables |
| --- | --- | --- | --- |
Last Update:

2021-12-17 18:24