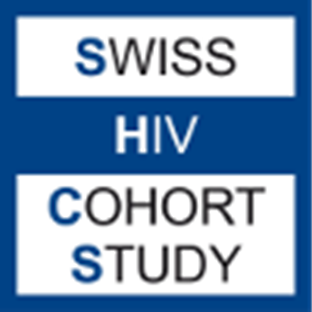 The major goal of this study is to conduct research on all main aspects of HIV disease including natural history and genetics, treated HIV infection, opportunistic infections and comorbidities, psycho-social problems; to provide optimal patient care of persons living with HIV in Switzerland, and to reduce HIV transmission.
Overview
Acronym

SHCS

Website

Investigators

Contacts
General Design
Study design

Cohort

Start - End Year

1988 -

General Information on Follow Up (profile, frequency)

The HIV-infected patients are followed in the cohort on an outpatient basis every 6 months. Loss to follow-up and death are reported by the local centres.

Recruitment Target

Number of Participants

21,283

Number of Participants with Biological Samples

19,415

Supplementary information about number of participants

There are 21 283 participants as of August 1st, 2021, and recruitment is ongoing. There are 19 415 of 21 283 participants who provided biosamples.
Access
Availability of data and biosamples
| | |
| --- | --- |
| Possible Access to Data | |
| Possible Access to Biosamples | |
| Other | |
Possible access to biosamples on request.
In principle, every research can use SHCS data, including biological samples. A research proposal needs to be submitted and approved by the SHCS scientific board. https://www.shcs.ch/162-researchers. Schoeni-Affolter F, Ledergerber B, Rickenbach M, et al. Cohort Profile: The Swiss HIV Cohort Study, International Journal of Epidemiology, 2010; Oct (5): 1179–1189. https://doi.org/10.1093/ije/dyp321
Marker Paper
Scherrer AU, Traytel A, Braun DL, Calmy A, Battegay M, Cavassini M, Furrer H, Schmid P, Bernasconi E, Stoeckle M, Kahlert C, Trkola A, Kouyos RD, Tarr P, Marzolini C, Wandeler G, Fellay J, Bucher H, Yerly S, Suter F, Hirsch H, Huber M, Dollenmaier G, Perreau M, Martinetti G, Rauch A, Günthard HF, and the SHCS. Cohort profile update: The Swiss HIV Cohort Study (SHCS). International Journal of Epidemiology.
PUBMED 34363666
Supplementary Information
Population
SHCS population
The population is composed of HIV-infected adult (aged 18 years old or more) individuals living in Switzerland or having regular visits at a Swiss outpatient clinic or private physician of seven cohort centres (in Basel, Bern, Geneva, Lausanne and Zurich, and two cantonal hospitals, St Gallen and Ticino).
Selection Criteria
Minimum age

18

Countries

Territory

Basel, Bern, Geneva, Lausanne and Zurich, and two canton St Gallen and Ticino

Health Status
Sources of Recruitment
Specific Population

Supplementary Information

Participants are recruited through different clinics in Switzerland. The clinics can delegate recruitment of participants and follow-up visits to other outpatient clinics or to specialized private physicians, provided that the requirements of the protocol can be entirely fulfilled and controlled. So participants were recruited from university hospitals, affiliated hospitals and private physicians.
Sample Size
Number of Participants

21,283

Number of Participants with Biological Samples

19,415
Data Collection Events
| # | Name | Description | Start | End |
| --- | --- | --- | --- | --- |
| 0 | SHCS - Registration | Socio-demographic data were collected: date of birth, sex, nationality, ethnicity, ... | 1988 (January) | Ongoing |
| 1 | SHCS - Follow-up 1 | Information concerning participant's ability to work, worked hours, family situation, ... | 1988 (January) | 1988 (June) |
| 2 | SHCS - Follow-up 2 | Information concerning participant's ability to work, worked hours, family situation, ... | 1988 (July) | 1988 (December) |
| 3 | SHCS - Follow-up 3 | Information concerning participant's ability to work, worked hours, family situation, ... | 1989 (January) | 1989 (June) |
| 4 | SHCS - Follow-up 4 | Information concerning participant's ability to work, worked hours, family situation, ... | 1989 (July) | 1989 (December) |
| 5 | SHCS - Follow-up 5 | Information concerning participant's ability to work, worked hours, family situation, ... | 1990 (January) | 1990 (June) |
| 6 | SHCS - Follow-up 6 | Information concerning participant's ability to work, worked hours, family situation, ... | 1990 (July) | 1990 (December) |
| 7 | SHCS - Follow-up 7 | Information concerning participant's ability to work, worked hours, family situation, ... | 1991 (January) | 1991 (June) |
| 8 | SHCS - Follow-up 8 | Information concerning participant's ability to work, worked hours, family situation, ... | 1991 (July) | 1991 (December) |
| 9 | SHCS - Follow-up 9 | Information concerning participant's ability to work, worked hours, family situation, ... | 1992 (January) | 1992 (June) |
| 10 | SHCS - Follow-up 10 | Information concerning participant's ability to work, worked hours, family situation, ... | 1992 (July) | 1992 (December) |
| 11 | SHCS - Follow-up 11 | Information concerning participant's ability to work, worked hours, family situation, ... | 1993 (January) | 1993 (June) |
| 12 | SHCS - Follow-up 12 | Information concerning participant's ability to work, worked hours, family situation, ... | 1993 (July) | 1993 (December) |
| 13 | SHCS - Follow-up 13 | Information concerning participant's ability to work, worked hours, family situation, ... | 1994 (January) | 1994 (June) |
| 14 | SHCS - Follow-up 14 | Information concerning participant's ability to work, worked hours, family situation, ... | 1994 (July) | 1994 (December) |
| 15 | SHCS - Follow-up 15 | Information concerning participant's ability to work, worked hours, family situation, ... | 1995 (January) | 1995 (June) |
| 16 | SHCS - Follow-up 16 | Information concerning participant's ability to work, worked hours, family situation, ... | 1995 (July) | 1995 (December) |
| 17 | SHCS - Follow-up 17 | Information concerning participant's ability to work, worked hours, family situation, ... | 1996 (January) | 1996 (June) |
| 18 | SHCS - Follow-up 18 | Information concerning participant's ability to work, worked hours, family situation, ... | 1996 (July) | 1996 (December) |
| 19 | SHCS - Follow-up 19 | Information concerning participant's ability to work, worked hours, family situation, ... | 1997 (January) | 1997 (June) |
| 20 | SHCS - Follow-up 20 | Information concerning participant's ability to work, worked hours, family situation, ... | 1997 (July) | 1997 (December) |
| 21 | SHCS - Follow-up 21 | Information concerning participant's ability to work, worked hours, family situation, ... | 1998 (January) | 1998 (June) |
| 22 | SHCS - Follow-up 22 | Information concerning participant's ability to work, worked hours, family situation, ... | 1998 (July) | 1998 (December) |
| 23 | SHCS - Follow-up 23 | Information concerning participant's source of income, ability to work, ... | 1999 (January) | 1999 (June) |
| 24 | SHCS - Follow-up 24 | Information concerning participant's source of income, ability to work, ... | 1999 (July) | 1999 (December) |
| 25 | SHCS - Follow-up 25 | Information concerning participant's source of income, ability to work, ... | 2000 (January) | 2000 (June) |
| 26 | SHCS - Follow-up 26 | Information concerning participant's source of income, ability to work, ... | 2000 (July) | 2000 (December) |
| 27 | SHCS - Follow-up 27 | Information concerning participant's source of income, ability to work, ... | 2001 (January) | 2001 (June) |
| 28 | SHCS - Follow-up 28 | Information concerning participant's source of income, ability to work, ... | 2001 (July) | 2001 (December) |
| 29 | SHCS - Follow-up 29 | Information concerning participant's source of income, ability to work, ... | 2002 (January) | 2002 (June) |
| 30 | SHCS - Follow-up 30 | Information concerning participant's source of income, ability to work, ... | 2002 (July) | 2002 (December) |
| 31 | SHCS - Follow-up 31 | Information concerning participant's source of income, ability to work, ... | 2003 (January) | 2003 (June) |
| 32 | SHCS - Follow-up 32 | Information concerning participant's source of income, ability to work, ... | 2003 (July) | 2003 (December) |
| 33 | SHCS - Follow-up 33 | Information concerning participant's source of income, ability to work, ... | 2004 (January) | 2004 (June) |
| 34 | SHCS - Follow-up 34 | Information concerning participant's source of income, ability to work, ... | 2004 (July) | 2004 (December) |
| 35 | SHCS - Follow-up 35 | Information concerning participant's source of income, ability to work, ... | 2005 (January) | 2005 (June) |
| 36 | SHCS - Follow-up 36 | Information concerning participant's source of income, ability to work, ... | 2005 (July) | 2005 (December) |
| 37 | SHCS - Follow-up 37 | Information concerning participant's source of income, ability to work, ... | 2006 (January) | 2006 (June) |
| 38 | SHCS - Follow-up 38 | Information concerning participant's source of income, ability to work, ... | 2006 (July) | 2006 (December) |
| 39 | SHCS - Follow-up 39 | Information concerning participant's source of income, ability to work, ... | 2007 (January) | 2007 (June) |
| 40 | SHCS - Follow-up 40 | Information concerning participant's source of income, ability to work, ... | 2007 (July) | 2007 (December) |
| 41 | SHCS - Follow-up 41 | Information concerning participant's source of income, ability to work, ... | 2008 (January) | 2008 (June) |
| 42 | SHCS - Follow-up 42 | Information concerning participant's source of income, ability to work, ... | 2008 (July) | 2008 (December) |
| 43 | SHCS - Follow-up 43 | Information concerning participant's source of income, ability to work, ... | 2009 (January) | 2009 (June) |
| 44 | SHCS - Follow-up 44 | Information concerning participant's source of income, ability to work, housework and ... | 2009 (July) | 2009 (December) |
| 45 | SHCS - Follow-up 45 | Information concerning participant's source of income, ability to work, housework and ... | 2010 (January) | 2010 (June) |
| 46 | SHCS - Follow-up 46 | Information concerning participant's source of income, ability to work, housework and ... | 2010 (July) | 2010 (December) |
| 47 | SHCS - Follow-up 47 | Information concerning participant's source of income, ability to work, housework and ... | 2011 (January) | 2011 (June) |
| 48 | SHCS - Follow-up 48 | Information concerning participant's source of income, ability to work, housework and ... | 2011 (July) | 2011 (December) |
| 49 | SHCS - Follow-up 49 | Information concerning participant's source of income, ability to work, housework and ... | 2012 (January) | 2012 (June) |
| 50 | SHCS - Follow-up 50 | Information concerning participant's source of income, ability to work, housework and ... | 2012 (July) | 2012 (December) |
| 51 | SHCS - Follow-up 51 | Information concerning participant's source of income, housework and physical ... | 2013 (January) | 2013 (June) |
| 52 | SHCS - Follow-up 52 | Information concerning participant's source of income, physical activity, ... | 2013 (July) | 2013 (December) |
| 53 | SHCS - Follow-up 53 | Information concerning participant's source of income, physical activity, ... | 2014 (January) | 2014 (June) |
| 54 | SHCS - Follow-up 54 | Information concerning participant's source of income, physical activity, ... | 2014 (July) | 2014 (December) |
| 55 | SHCS - Follow-up 55 | Information concerning participant's source of income, physical activity, ... | 2015 (January) | 2015 (June) |
| 56 | SHCS - Follow-up 56 | Information concerning participant's source of income, physical activity, ... | 2015 (July) | 2015 (December) |
| 57 | SHCS - Follow-up 57 | Information concerning participant's source of income, physical activity, smoking, ... | 2016 (January) | 2016 (June) |
| 58 | SHCS - Follow-up 58 | Information concerning participant's source of income, physical activity, smoking, ... | 2016 (July) | 2016 (December) |
| 59 | SHCS - Follow-up 59 | Information concerning participant's source of income, physical activity, smoking, ... | 2017 (January) | 2017 (June) |
| 60 | SHCS - Follow-up 60 | Information concerning participant's source of income, physical activity, smoking, ... | 2017 (July) | 2017 (December) |
| 61 | SHCS - Follow-up 61 | Information concerning participant's source of income, physical activity, smoking, ... | 2018 (January) | 2018 (June) |
| 62 | SHCS - Follow-up 62 | Information concerning participant's source of income, physical activity, smoking, ... | 2018 (July) | 2018 (December) |
| 63 | SHCS - Follow-up 63 | Information concerning participant's source of income, physical activity, smoking, ... | 2019 (January) | 2019 (June) |
| 64 | SHCS - Follow-up 64 | Information concerning participant's source of income, physical activity, smoking, ... | 2019 (July) | 2019 (December) |
| 65 | SHCS - Follow-up 65 | Information concerning participant's source of income, physical activity, smoking, ... | 2020 (January) | 2020 (June) |
| 66 | SHCS - Follow-up 66 | Information concerning participant's source of income, physical activity, smoking, ... | 2020 (July) | 2020 (December) |
| 67 | SHCS - Follow-up 67 | Information concerning participant's source of income, physical activity, smoking, ... | 2021 (January) | 2021 (June) |
| 68 | SHCS - Follow-up 68 | Information concerning participant's source of income, physical activity, smoking, ... | 2021 (July) | Ongoing |
Participating Studies
| Acronym | Name | Study design | Countries |
| --- | --- | --- | --- |
Harmonization Initiatives Included
Networks
| Acronym | Name | Harmonization Initiatives | Individual Studies |
| --- | --- | --- | --- |
Datasets
| Name | Type | Data Collection Events | Variables |
| --- | --- | --- | --- |
Last Update:

2022-05-09 15:55