Swedish Mammography Cohort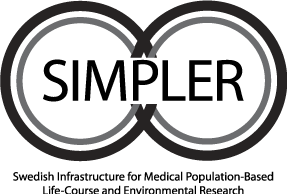 The general aim of the study is to assess a wide range of modifiable lifestyle factors (diet, dietary supplements, physical activity, smoking, alcohol, body weight and other anthropometric measures, etc.) and genetic factors in a large population-based longitudinal cohort of Swedish middle-aged and elderly women.
Extensive questionnaire-based data on diet and other lifestyle factors enables studies of relevance for primary and secondary prevention of cancer (common and rare types), cardiovascular diseases, type 2 diabetes, osteoporosis, neurodegenerative diseases, age-related cataract, rheumatoid arthritis, lower urinary tract symptoms, chronic obstructive pulmonary disease, obesity etc.
Extensive register-based information on health status facilitates studies of multimorbidity, polypharmacy, ageing, and overall and cause-specific mortality.
Biorepository with a broad spectrum of samples (saliva, blood, urine, adipose tissue, faeces), complemented with clinical data, enables studies of genetic factors and other factors of relevance for detection of biomarkers for early diagnosis and progression.
Overview
Acronym

SMC

Website

Investigators

Contacts
General Design
Study design

Cohort

Start - End Year

1987 -

General Information on Follow Up (profile, frequency)

After baseline, participants were followed-up three times for updated exposure information, in 1997, 2008 and 2009.
Information on health status is updated every year by linkage to registries.

Recruitment Target

Number of Participants

66,651

Number of Participants with Biological Samples

14,904

Supplementary information about number of participants

Saliva sample: 8744 participants
Clinical subcohort samples (Cycle 1): 6231 participants
Clinical subcohort samples (Cycle 2): ~400 (June 2016; ongoing)
Access
Availability of data and biosamples
| | |
| --- | --- |
| Possible Access to Data | |
| Possible Access to Biosamples | |
| Other | |
Marker Paper
Harris H, Håkansson N, Olofsson C, Stackelberg O, Julin B, Åkesson A, et al. The Swedish mammography cohort and the cohort of Swedish men: study design and characteristics of two population-based longitudinal cohorts. OA Epidemiology 2013 Oct 01;1(2):16.
Population
SMC population
The cohort is composed of women born between 1914 and 1948 and residing in the Uppsala County of central Sweden and in the adjacent Västmanland County at the time of recruitment.
Selection Criteria
Gender

Women only

Minimum age

39

Maximum age

76

Countries

Territory

Uppsala and Västmanland Counties (central Sweden)
Sources of Recruitment
General Population

Supplementary Information

All women born between 1914 and 1948 were invited to participate.
Sample Size
Number of Participants

66,651

Number of Participants with Biological Samples

14,904

Supplementary Information about Population

1987: 66 651 participants
1997: 39 227 participants
2008: 30 621 participants
2009: 25 332 participants
Saliva sample: 8744 participants
Clinical subcohort samples (Cycle 1): 6,231 participants
Clinical subcohort samples (Cycle 2): ~400 participants (June 2016; ongoing)
Participating Studies
| Acronym | Name | Study design | Countries |
| --- | --- | --- | --- |
Harmonization Initiatives Included
Datasets
| Name | Data Collection Events | Variables |
| --- | --- | --- |
Areas of Information Collected
Socio-demographic and economic characteristics

Death

Lifestyle and behaviours

Physical measures and assessments

Birth, pregnancy and reproductive health history

Laboratory measures

Perception of health, quality of life, development and functional limitations

Cognition, personality and psychological measures and assessments

Diseases

Life events, life plans, beliefs and values

Symptoms and signs

Preschool, school and work life

Medication and supplements

Social environment and relationships

Non-pharmacological interventions

Physical environment

Health and community care services utilization

Administrative information
Variables Content Summary
Areas of Information Collected
No Areas of Information Collected
Areas of Information Collected per per Population and Data Collection Event
No Areas of Information Collected
Networks
| Acronym | Name | Harmonization Initiatives | Individual Studies |
| --- | --- | --- | --- |
Last Update:

2020-05-04T12:05:28.768